Pique their Interest: Pre-show direct mail & Introductions
Capture Attention: Expo Display Stands & Branded Clothing
Engage a Crowd: Scratch cards, Promo & Freebies
Collect Data: Request a Free Audit, Claim a Discount, Enter a Competition
Follow up: Organize Meetings, Contact Enquiries & Connect on Social Media
Are you looking to maximize your impact at trade shows, expos and exhibitions? These powerful marketing activities are a fantastic way to increase brand awareness, build your network, generate new leads and host product launches. Use them to build relationships and capture invaluable feedback from clients and potential leads. Below, we'll share planning processes to increase your return on investment for your next business event.
"Exhibitions increase brand awareness, strengthen existing customer relationships, generate high quality business leads, educate and inform audiences, provide an opportunity to conduct and/or deliver market research, and are often used to launch new products." – The UK Events Report, 2020
What's in a name?
When it comes to star-crossed lovers, perhaps names aren't all that important. But when it comes to event planning, there really is a difference between what they're called. Here's an overview of the main types of business events, and why you might attend each.
Trade Show
A trade show is an event themed around a certain industry. You would attend a trade show to launch new products or services to the market, or collect market feedback. If you are looking to establish suppliers, partners or strategic alliances in your industry, you could attend a trade show to access businesses who serve similar markets to you.
Exhibition
An exhibition is often open to a wider range than one industry, it might be themed around business and technology or manufacturing and supply chain. Exhibitions are typically used to showcase your brand, launch new products, generate leads and build your network.
Expo
At an expo, the delegates tend to be a mixture of both business and consumers. These might include a creative expo. Attend an expo if you're looking to build industry and business-to-business connections, as well as offering something to the consumer.
Trade Fair
Trade Fairs are often targeted towards consumers, a Christmas Trade Fair might have attendees who show up to purchase festive themed foods, drinks and gifts on the day.
Are business events a good marketing activity?
Expos, exhibitions, trade fairs or trade shows are each an incredibly useful marketing activity, when utilized correctly. They are an excellent way to gain exposure for your brand, generate new leads and build your network.
Here are some of the many reasons to include an expo, trade show or exhibition in your next marketing plan. Later, we'll look at ways to boost your return on investment when it comes to attending these events.
Reasons to include business events in your marketing plan
In-person interaction & communication
How many times have you sent an email or posted a brochure and wondered how the receiver reacted? Digital marketing and printed collateral offer excellent opportunities in your marketing toolbox, but they do have some drawbacks when it comes to two-way communication. Live events remove that communication barrier. Stand in front of your audience and access real-time reactions to your brand and offering. Establish rapport and connect on a personal level with your audience by maximizing non-verbal communication channels like body language and tone of voice – all the things you can miss with other marketing strategies.
Come face-to-face with your Target Market
The event you attend will likely be themed: a home improvements expo, a technology exhibition, a wedding fair, meaning those in attendance already have a proven interest in your sector or offering. This is an excellent way to almost guarantee that you're marketing to a relevant group of people. Before booking your event, spend some time establishing your goal for the marketing activity and your ideal customer / partner avatar. Once you know what you're trying to achieve and who you will need to engage with in order to do so, select a business event that is tailored to that audience.
Perhaps your goal for this marketing campaign is new customer acquisition
Profile your most profitable customers from your existing customer base to create an avatar of your ideal customer. Book your place at the event that promises to have most of those in attendance. E.g. If your ideal customers are people who are getting married, value a consultative service, forward-planning and have a significant wedding budget, a wedding & honeymoon fair is your best bet.
Maybe you want to establish yourself as an industry leader and cultivate strategic alliances
If this is the case, identify the groups of businesses you want to connect with, those who share a similar target market but serve them with different, complementary products and services. In this case, opt for a trade show or an exhibition that serves that common target market.
Other reasons to include expos or trade shows in your marketing plan include the:
opportunity for field-based market research;
potential for increased repeated touch points with the same audience;
the chance to connect personally with the audience to ensure your follow-up is tailored to their likes, dislikes, needs and priorities.
How to increase your return on investment at your next expo
Now that you've decided that an expo, exhibition, trade fair or show is for you, here's a guide to really getting the most out of your investment of time, money and efforts.
Before: Build excitement ahead of your expo
Far too often, we fall foul of booking our place at an exhibition and waiting until we are on the stand to start introducing ourselves to other exhibitors and attendees. Achieve the most success by viewing your exhibition as a 3-part marketing campaign, with stage 1 focussing on pre-event activity.
Review the exhibitor list and identify fellow exhibitors who would be most interested in your offering. If you're not sure where to start, use our ideal client avatar guide to help you in profiling who you should pay most attention to. In the weeks leading up to your event, plan 1-3 touch-points with these exhibitors to introduce yourself and spark interest.
Fellow Exhibitors:
Connect with them on LinkedIn including a personalized note
Send them a postcard with an offer they can claim from you on the day
Email them an invitation for you to buy them a coffee at the event
Exhibition Delegates:
We tend to be more restricted in terms of direct contact when it comes to connecting with delegates ahead of the event itself. It's unlikely that you will receive a list of those who are booked to attend the exhibition. To target attendees, take a broad approach to raise awareness about the event itself, as well as your presence there.
Email to your own database with a link to the event and an overview of what you'll be offering, or a competition you'll be running on the day
Create a series of countdown posts for your social media. This lets followers know that the event is coming up and to share a taster of what you have in store for them
Sponsor a social media post targeted to your ideal client demographic in which they can enter a competition you'll be running on the day early via social media.
Why not make an in-person entry worth 2 x social media entries? Placing the emphasis on attracting people to your stand on the day, while still capturing data of those who are interested but can't attend.
During: Capture Attention & Collect Data on the Day
Exhibition Display Stands
Step up and stand out! Nothing breaks our heart like showing up to a trade show and seeing someone's A4 printer paper posters stuck to the shell scheme with tape and thumb tacks. Invest in expo furniture that is on-brand and reusable and you will reap the benefits for years to come. At a trade show or business event, you're among stiff competition to stand out. Establish your business as credible, professional and trustworthy with display stands and expo furniture that elevate your brand. Ask your local Nettl studio to help you plan a beautiful expo stand suitable to every budget.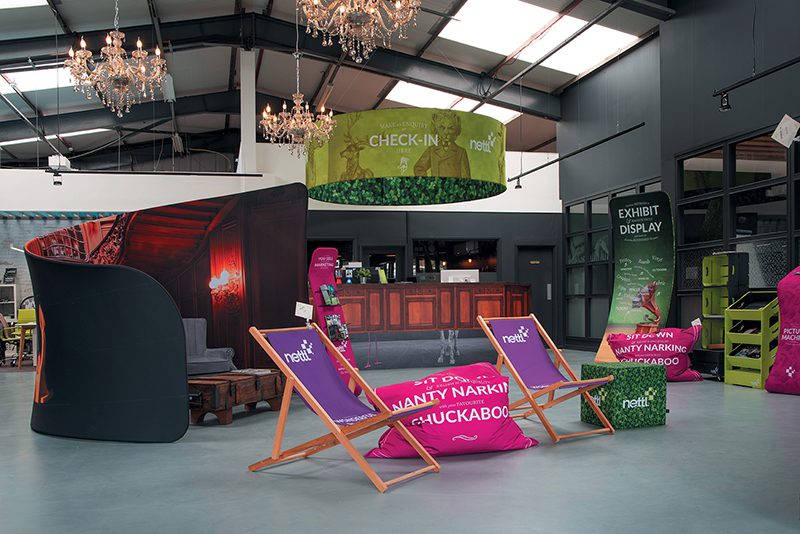 Nettl Nugget
Choose between free standing space, shell scheme and bespoke exhibition displays and we can plan together.

Once you've caught attention with your stand display, it's vital that you engage with delegates and fellow exhibitors alike. Brainstorm ways to get them interacting with you and your stand. Scratch cards are a fantastic way to gamify this interaction. They're a mood booster and a fantastic conversation starter.
Interact with Event Delegates
Boost your success at your next event by making a few slight tweaks to your approach. During this interaction, rather than only giving information out to delegates, find some way to collect their information. This way, you're not at the will of the attendee to continue the conversation after the event. Run a competition in exchange for signing up to a mailing list. Or get attendees to submit their details to claim a free audit. Rather than hoping that the people who picked up your brochure will get in touch, this way, you have a bank of people to follow up with after the event, to make sure the conversation continues.
We love using a peacock media display fabric stand (below) to show a presentation on the TV, display brochures and also collect delegates' details via a submission form on the iPad.
After: Follow up after the event
So now you know that you must take control of connections and communications following your event. Delegates and fellow exhibitors will likely have perused lots of other stands, and may be doing their own chasing after the event.
Use the data you've collected through a free audit contact form, or a business card bowl competition to reconnect with the people you met at the event.
LinkedIn connections (remember to add a note!), emails and phone calls are great direct routes to start the conversation.
If you would prefer to take a more passive approach, you could include those who have opted in to your mailing list, or follow their business pages on social media and interact with their activity.
Approach this event as you would any marketing campaign, plan multiple, varied touch-points over a relevant period of time. There are more ideas on customer outreach in this blog, and here are some marketing planning tips for small businesses.
We love planning the marketing touch-points that help our clients maximize their event investment. Contact your local Nettl today to organize a free exhibition planning consultation. Send us a message at jamie@jmedia.bz or visit us online at www.jmedia.bz